r o b i n s o m e s . n e w s
October 14th 2019
More good news; I now have a presence on
Soundcloud...
September 2019
Been a bit quiet, haven't I? Still, the good news is, all my music is now
available on Bandcamp
!
February 5th 2015
2015. How did that happen? What's to come this year? More recording; working on some new tunes and revisiting some old ones. And hopefully getting some more songs down, too.
2014
It's been a year of many open mic nights! The Waterside Club in Holbury, Ye Olde Starre in Christchurch, and Ashlett Mill, mostly as well as benefits for Ebola victims in Sierra Leone and Palestinian refugees. So much amazing talent has emerged; Lantern Brigade, Sam Slod Scott, Catherine Elliot, Stanford Road, and Lee Huxtable, to name just a few, and our old friends Mike Vaughan, Geoff and Debby Kinch, Lucy Smith, Charlie Woodford and others, have been plugging away too!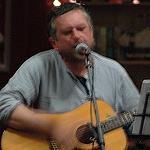 December 7th 2013
Alas, that's it for the Spinnaker! The
lease on the Spinnaker has been withdrawn
by Hampshire County Council. Their precise reasons for this are of no interest to me, the end result - no more Spinnaker as we know it - is. The whole thing sucks. Anyway, a grand last evening, with so many people; Charlie Woodford, Lucy Smith, Colin Jones, Geoff Kinch, Mike Vaughan, Patrick Conner, Jon Matthews, Shaun Shears, and more besides.
September 21st 2013
A change of scenery, if not a change of shirt; off to the Bishop Blaize at Romsey for a charity gig for the
Piam Brown children's oncology and haematology centre
at Southampton General Hospital, ably organised by Mick Fry and Corrina Jennings. Range of performers, including the young Shannon Blue - one to watch out for.
August 22nd 2013
Had a bit of a break from it all. Lot of work, some holiday, and been under the weather for a few weeks. Certainly don't recommend chickenpox. Came bouncing back with a showcase gig at the Cottonwood Hotel in Bournemouth, featuring emerging local talent (not sure I'd agree with any of those 3 words in my case, but nonetheless...).
Shona Lowe Band
,
The Joker and The King
, yours truly, and
Lee Rasdall-Dove
launching his new EP. Lovely audience, lovely venue.
August 20th 2013
A special mention for the Railway Inn in Winchester. Went to see the incomparable John Renbourn play. Fantastic music, but oh what a venue. The Barn is painted entirely black, and lit (if lit is the right word) only by UV strip lights, so the only illumination is from the fluorescence of people's teeth, t-shirts and underwear. Even more unsettling than it sounds.
May 4th 2013
The Spinnaker again. I'm always amazed how many new acts show up, each month. This time, 3 or 4 young bands and duos, Holbury's king of Deathcore and Doom,
Geoff Kinch
, Ben The Mod Pearson, Shaun Shears, and finishing up with a jam with the wandering
Ty Rettke
, all the way from Alaska - Ty on guitar and vocals, Adam on vocals, me & Shaun Shears on harmonicas, Ben The Mod on the spoons. Never let it be said we're not an eclectic bunch.
April 9th 2013
Some more great acts at Ye Olde Starre in Christchurch; turning in to a nicely-attended regular session, with some fantastic local, and not so local talent. Thanks as ever to Ash and Russ Gannicott for hosting it, and for everyone who turned out to make it work.
March 14th 2013
Another open mic night; my word, they're popping up like mushrooms. This one is at the
Ashlett Mill, Ashlett Creek, Fawley
. More details from
Ashlett Sailing Club
. New idea for the venue, and the first night was very promising. Open mic stalwarts Geoff Brammer and Lucy Smith, and a host of others - including my old buddy Al Woodcock, whom I'd not seen for years. Special mentions for
Mike Vaughan
, and a young lad called Sam. Looking forward to the next one!
March 2nd 2013
Open mic night at the Spinnaker Bar at Calshot Beach; another good evening courtesy of Mark, James, Adam and Gunny. It's a little oasis in a cultural desert, so thanks are due...
February 15th 2013
"
This is a fantastic album and will be loved by anyone with a taste for distinctly English 'pastoral' guitar virtuosity. Once again, a brilliant body of work by Robin.
"
Many thanks to Russ for a glowing tribute to '
The Sea Remembers Nothing
'!
By the way, take a look at my new Facebook page, for all the latest:
Robin Somes - Acoustic Guitarist
.
February 13th 2013
Played at Ye Olde Starre last night - what a great evening. Did 2 sets; thoroughly enjoyed all the other acts - Fish Out Of Water, Terry Keyworth, Lester J Allen and Lee Rasdall-Dove. Thanks to Ash and Russ for making it happen; looking forward to the next on March 12th!
February 12th 2013
A new open mic night, run by Ash Gannicott of Fish Out Of Water, at
Ye Olde Starre, Christchurch, Dorset
. Starts at 8.30, and it's free - floor spots are available on the night.
February 11th 2013
After a gestation period of almost 17 years (yes, I have been out-gestated by a
small Hemipteran
), my 2nd CD is finished, and released.
The Sea Remembers Nothing
features 9 instrumentals and 2 songs. Better rush off to my
shop
and buy a copy. Albums 3 and 4 will hopefully be along a little quicker; more instrumentals, more songs, and, in the case of album 4, a couple of hours' worth of almost-unlistenable
musique concrète
.
February 2nd 2013
Another great night at the
Spinnaker Bar
open mic night. Played a few tunes (Miss Manning Requests, The Sea Remembers Nothing, and an
improvisational piece
I've been working on); later ended up playing the harmonica with
Fish Out Of Water
and the incomparable
Shaun Shears
, and bellowing out 'Hey Joe' and 'Sweet Child O'Mine'. Thanks as always to Mark Cox and everyone at Spinnakers for making it happen, in what is otherwise a bit of a cultural desert.
September - October - November - December 2012
A new open mic night at the
Spinnaker Bar
, Calshot Activities Centre. First Saturday of every month, starting around 7.30pm - it's a chance for anyone with a talent (
not just musicians!
) to come along and do their thing. Even better, it's free.
August 2012
The Wind Horse
released on CD, after a long time in the wilderness.